I dated a guy last year who pointed out to me that I managed to work dinosaurs into a lot of conversations. We broke up shortly after
Dinosaurs are fascinating to me. They always have been. My brother was equally fascinated. He saw Jurassic Park in the theatre something like 10 times. I still get excited by spending a rainy afternoon in the Museum of Natural History among the towering sculptures of prehistoric bones.
And yes, I'll confess, that part of the fascination with dinosaurs is getting to ponder what their lives were like. I'm pretty sure it was not like this:
Not the Mama
But finally there are more answers thanks to Huffington Post to the most pressing question about the ancient reptiles: How did they do it?
Well, Dinosaur Sex Experts-which is the area of Paleontology that all the party dudes go into-have come up with some concrete theories on how dinos did the dirty. Basically they believe that dinosaurs had the same basic equipment that modern day birds and reptiles have. It is a single opening in the body used for urination, defecation, and reproduction-aptly named "cloaca" which is latin for sewer. Dinosaurs would have rubbed their cloacas together in a "kiss." There was possibly a variant cloaca for males that would have been like a penis-and yes a T-Rex's would have been impressive. Forget being hung like a horse, a T-Rex's would have been up to 12 feet. Hot.
And when it comes to the Karma Sutra, dinos would have been only interested in one pose "Congress of the Cow" or perhaps they called it "Meeting of the Mastodons."
Studies on dinos doin' it began many years ago by the late English scientist Beverly Halstead and then were then visualized by artist Ron Embleton into great Dino Porn like this.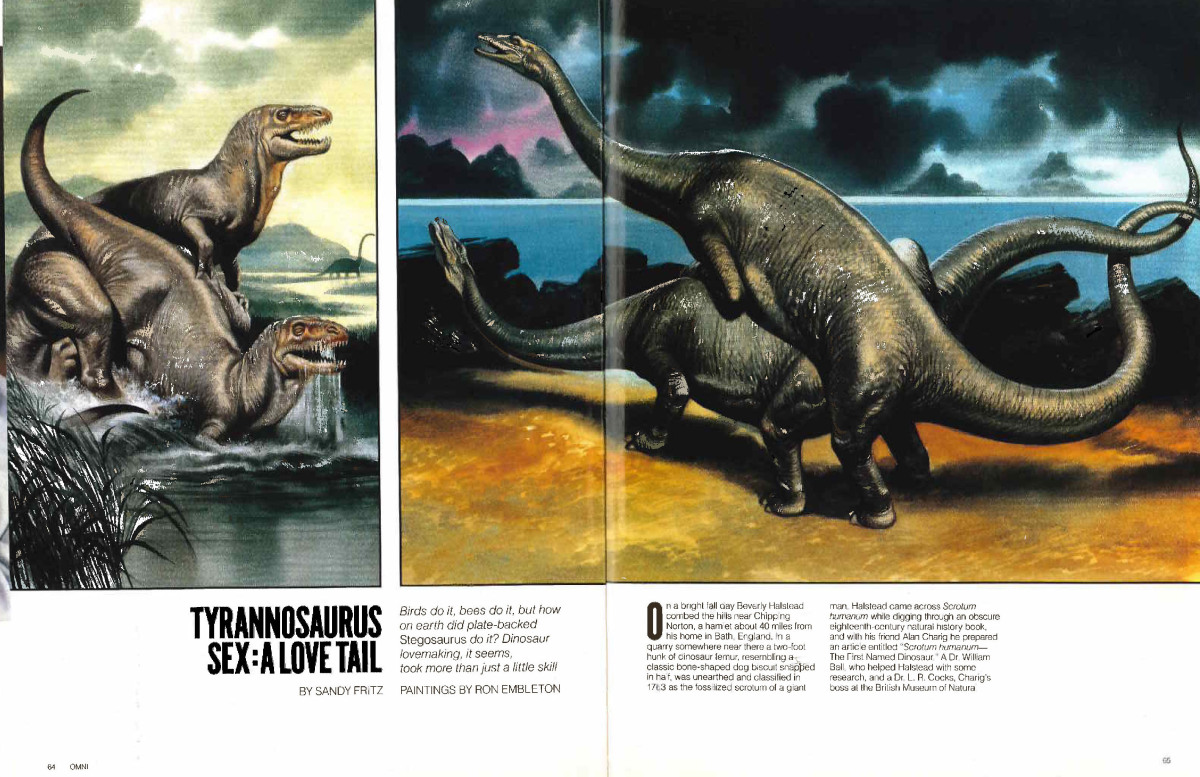 Actually, I highly recommend doing a Google image search of "Dino Porn." Everything that comes up is pretty hilarious.
I wonder if that ex-boyfriend would have been more into this aspect of dinosaurs? Doesn't matter-he was no T-Rex.