Me as mermaid thanks to Photoshop.
I have wanted to be a mermaid and have been fascinated with mermaids for as long as I can remember. In fact, the summer after Disney's The Little Mermaid came out I spent the whole summer refusing to use my legs when I swam. Eight year old me at day camp insisted on only doing this awkward paraplegic spaz stroke to prepare myself in case I ever got to become a mermaid.
Well my dreams are about to come true.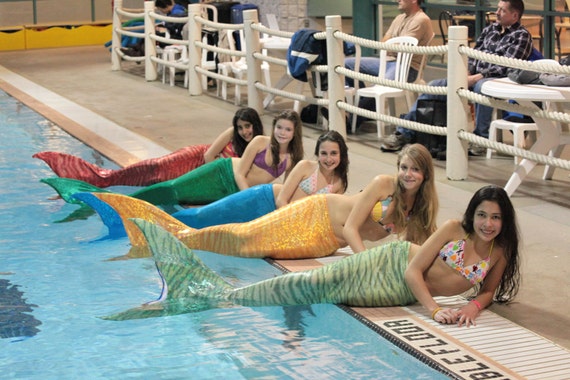 Mermaid models From Monika Naumann's Etsy Shop
For the mere price of $250 I can purcahse a mermaid tail from
this Etsy shop
that I can swim in! I can even choose the color! Now I can only imagine how cool I'll look lounging poolside sipping drinks in this. And at the beach?! I'll get so much attention as I emerge from the ocean flipping my fins to push my shell clad bust out with the crash of a wave.
The only concern is-even though she says you can swim in these-should you? From my practice all those years back in the pool, I know swimming "mermaid-style" is not easy. An Olympic swimmer would struggle to co-ordinate a smooth fin kick. So what are the chances that a child getting into this thing will be able to stay afloat? Would I? Imagine reading that obit. "Woman Drowns While Pretending to Be a Mermaid." That's a bit embarrassing.
Maybe I should invest in some training. There is a
Mermaid camp
for adults in Florida where you learn to be a Siren of the Deep from the Mermaids who perform the famous underwater show there. Amazing. Perhaps this would be a safer place to explore the fantasy. And I'm sure they'd teach you some sexy mermaid maneuvers. Either way, it's nice to know that your childhood dreams can become a reality.
Mermaids at Sirens of the Deep at Weeki Wachee Springs in Florida