I did not watch the Grammy's. I just was too tired to deal with what I was confident was going to be an overwhelming amount of craziness. Of course today, the internet is making me feel like that loser who missed the party with all the cool kids and now is doomed to forever be a beat behind in catching those in jokes that will go on forever. But I don't care. I read the recaps.....Smokey the Bear hat, Beyonce looking sexy, massive wedding on stage to Macklemore, Pink wowing with acro-dancing.....I feel I can fake it and hold my own should any of this manage to stay relevant past today.
But there was one part of the circus last night that I think deserves it's own ring-creepy clown.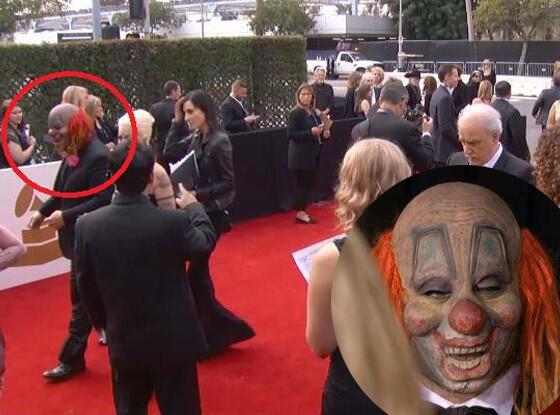 This is amazing. This dude (actually musician Shawn "Clown" Crahan) walked the red carpet in a nightmare inducing clown mask. And he became my hero.
Now let's be honest, the red carpet is no stranger to celebrities scarily looking like clowns strutting their stuff.
In fact, red carpet fashion is really getting more and more about shock value. We've gone past J-Lo wearing a skin-baring dress that is only held together at her hoohah to Lady Gaga's performance art arrivals in an egg from which she births herself in a yolk yellow bikini.
Seems a natural progression to just full on terrifying clowns to me. I hope he is invited to the Oscars.