Today it was announced that Pope Benedict XVI is stepping down. The 85 year old explained "my strengths due to an advanced age are no longer suited to an adequate exercise of the Petrine ministry."
While the Pope felt that he was too old to go on, there is so much evidence and propaganda out there that getting older doesn't mean you grow any duller or weaker.
In fact there are several examples of "old" out there that are making me almost (
almost
) excited to age like fine wine. It's like when I was in elementary school watching Beverly Hills 90210 and I couldn't wait to be a scandal-causing teen hanging out at The Peach Pit.
Frail and cluless blue haired ladies are a thing of the past. Look at 67 year old actress Helen Mirren who debuted her pink hair (inspired by something she saw on America's Next Top Model) on the red carpet. Awesome.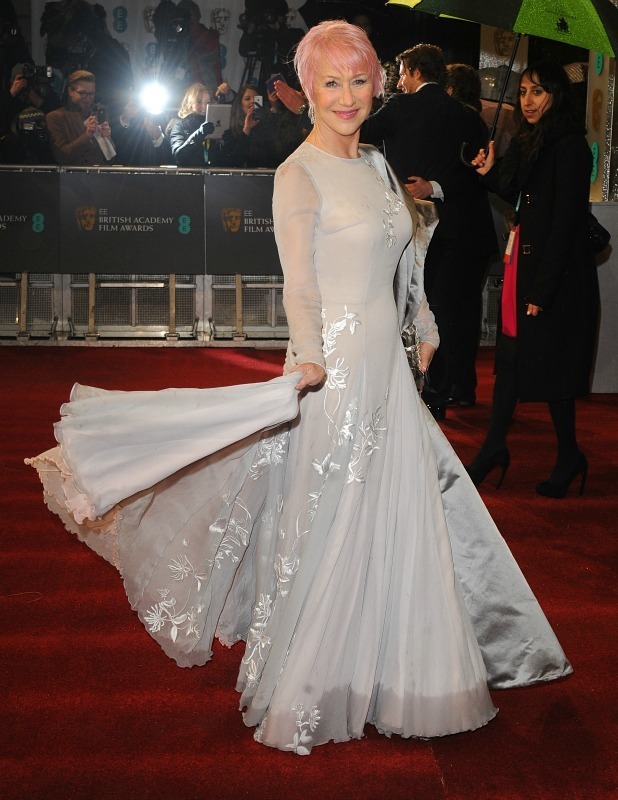 This commercial for GNC featuring spunky Edith, a 91 year old great-grandmother dressed like an old school rapper, reminding us to exercise and take care of ourselves to stay young.
And last but not least, perhaps the old bag that started it all---the incomparable Betty White. Betty White has been old for as long as I can remember. And like a piece of barn wood becoming a Pottery Barn coffee table, her fame has been reclaimed with imitable style. This broad has made being old a thing the way Paris Hilton defined carefree, slutty youth for all the ingenues after her. And as she turned 91 this month (celebrated with a "Betty White's 2nd Annual 90th Birthday" TV special), Betty White quipped that "Now that I'm 91....I'm much sexier." And it's true. Somehow the older she gets, the hotter she is. The President called her a national treasure, she has TWO tv shows, commercials, a sexy calendar....life after her prime is great for her.
So, I guess those tears I shed into my pillow the morning after my last birthday were in vain. Old is just a state of mind. We don't all have to shrivel up into a cocoon of crazy like Baby Jane. We can just proudly embrace our idiosyncrasies and enjoy being admired for our age because really just being alive is an accomplishment. Being over the hill sounds like a wonderful place. But I suppose it ought to be the glass of wine and pint of ice cream kind of reward for all that hard-work from the up-hill battle of life to get there. But if these old biddies have taught us anything, it's just to make sure you never grow up.