Tomorrow is the big day.
Here are some great last minute gift tips. And in case you have intentions to make me your last minute Valentine, these are the only gifts I will be accepting.
Diamond-encrusted heart-soled stilettos
Price: $116,000
From British designer Christopher Michael Shellis. I refuse to go out unless these are on my feet.
A chocolate portrait of my face
Price: about $85-150
From company Choc-Edge, it is created with a machine similar to a 3D printer that uses a digital image to create this thick layered chocolate. Until I am eating my own face, I will not be happy.
A "Balthazar" of Bordeaux.
Price: $195,000
Only sold in a wine shop in the Dubai International Airport, this 12 liter bottle of wine also comes with a first class ticket to France for a private tour of its Chateau Margaux vineyard and dinner with the winemaker. That and the fact that it is 12 liters make that price seem absolutely reasonable. I refuse to get red wine mouth from sipping any other wine but this.
A bouquet of Kadapul flowers
Price: Considered Priceless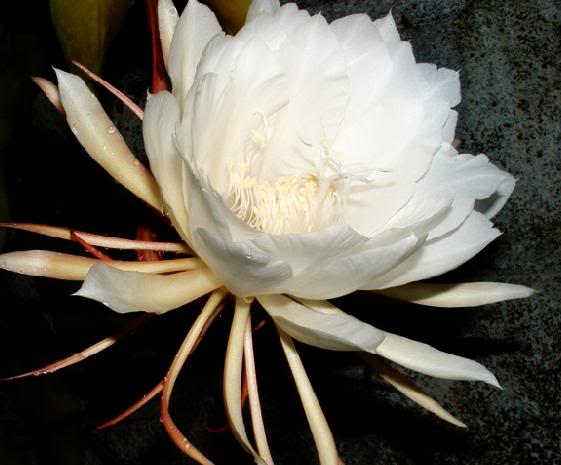 You've never heard of the Kadapul flower? You are a peasant. This rare flower is actually a form of a cactus and is only found in dark hidden places in Sri Lanka. It blossoms at night and emanates a beautiful, calming fragrance. But tragically, once it picked, it only lasts a couple of hours. Do not even attempt to give me plain old roses.
A gilded greeting card
Price: $5000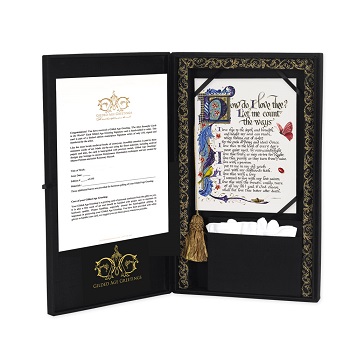 These personalized cards from Miami-based Gilded Age Greetings are hand painted on calf vellum and adorned with diamonds, rubies, and sapphires with 23 karat gold lettering. Forget licking an envelope, you can save your tongue for other things. This masterpiece comes in its own silk box with complimentary silk gloves for handling. Screw you Hallmark.
Big Hunka Love Diamond Bear
Price: $29,999
There's only one of these available?! It better be mine. This 4 1/2 foot Vermont Teddy Bear Company bear is "stuffed with more than enough love to last a lifetime." (Which is great, because a lifetime is undoubtedly longer than our relationship will last so I'll still have someone to hug when I've left you to live in poverty from showering me with ridiculous lavish gifts.) Anyway, this cuddly friend in his "romantic red velvet bowtie" comes with a "wow factor" which is a hunka burnin' love "fire rose" diamond flanked by two smaller diamonds making it over 5 carats of poop colored diamond. Do the pajamas matching the red velvet bowtie come with it too? If they don't, you better find those too, otherwise this teddy is going in the trash.
And I'm telling you cheapskates right now, if you wait until the 15th none of these will be marked down like those bags of candy hearts.....And no lame excuses about it being
canceled due to weather.
So here's hoping your Valentine's Day is the lavish kind that makes everyone feel envious of you on facebook. Because that's
what it's all about
right?